Uncancelled Saturday June 20th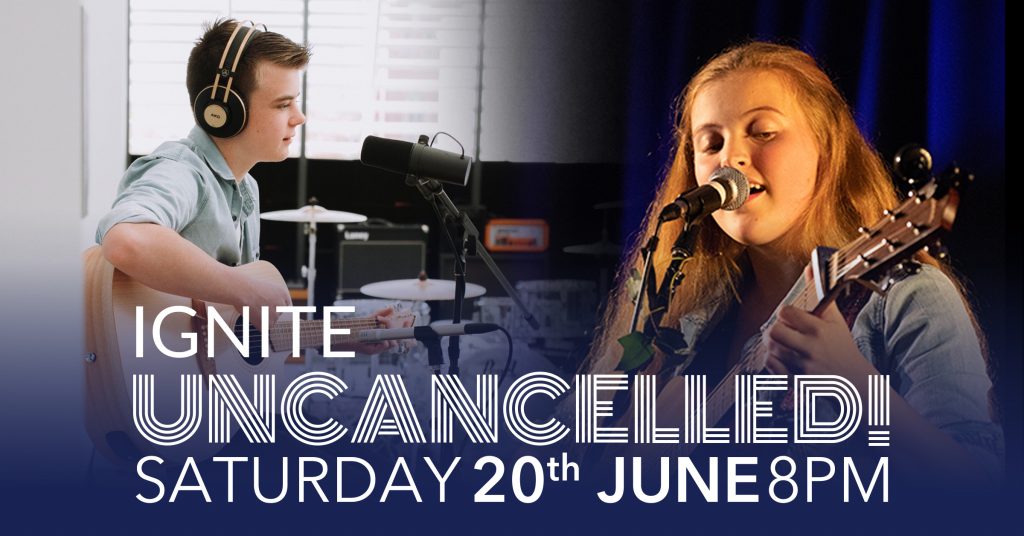 Our ninth live streamed performance starts at 8pm on June 20th with Bodhi Hawken & Sadie Mustoe taking the stage for Ignite Uncancelled at our new custom built broadcast studios!
Prepare to be amazed by these talented local artists – we'll be broadcasting them live on Facebook, Instagram and YouTube from 8pm!
Remember to follow their pages, RSVP & share with all your friends: Ignite Uncancelled – Bodhi Hawken & Sadie Mustoe
Seventeen year old Bodhi Hawken is a heart-on-his-sleeve acoustic singer songwriter from the tiny country town of Kyvalley in Northern Victoria. To earn enough money to buy his first guitar he spent school holidays rising at 4am to milk cows and the music addiction has only continued to grow. Bodhi first picked up a guitar at six years of age and at the age of eleven cemented his love of performing when he had the opportunity to join Aussie great, Jimmy Barnes on stage at a Day on the Green. In 2015, he won of the Junior Division of Fast Track Strathbogie, a national talent showcase, and then backed it up to take out Best Original Songwriter at Fast Track Shepparton in the Open Division. In 2017, 2018 and again in 2019 Bodhi was a principal vocalist in the Victorian State School Spectacular staged at HiSense Arena in front of a live audience of 14,000 and broadcast to a national tv audience. He has also had the privilege of performing in AAMI Park Stadium as part of the annual NRL All Stars match half time entertainment. Bodhi recently released his first acoustic EP 'The Bodhi Tree'.
Behind Sadie Mustoe's authentic and unpretentious manner is a prodigious and dynamic musical talent. Her striking singing voice shapes her skilfully crafted original songs. Sadie is a modern-day storyteller whose indie-folk-pop music takes audiences on a journey seen through the eyes of a down-to-earth Melbourne teenager. With a comprehensive string of song-writing, vocal and stage awards, over 20 festival appearances and a diploma in classical violin, Sadie Mustoe launched her second EP 'Up Left & Turn' at Maldon Folk Festival, 2018. Sadie is a passionate song-writer and also a multi-instrumentalist playing violin, guitar, piano and ukulele. She has an eclectic range of influences through indie, classical, folk and rock, as well as a deep care for all things environmental, which is reflected through her approach to music. Recent festival appearances include St Kilda Festival and the National Folk Festival. "Sadie effortlessly pairs stunning lyricism with an emotive soundscape and takes your breath away", Thando.